From psychedelic tourism to techno-geek psychonauts, spiritual seeking has finally merged with high-tech entrepreneurism. Most people are still not aware of these technologies of spirituality, let alone how they are likely to develop over the next few decades. Spirit Tech: The Brave New World of Consciousness Hacking and Enlightenment Engineering is a book by CMAC researchers Dr. Wesley Wildman and Kate Stockly, which introduces and evaluates, from the perspective of two scholars who have decades of research on religion and spirituality behind them, several new spiritual technologies within what they call the "scattered supermarket of special spiritual services."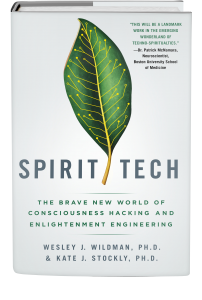 Spirit Tech explores the next and potentially most transformative revolution:  the potential for a cyborg spirituality—in which brain-based technological advancements are harnessed to enhance and facilitate spiritual experiences from achieving Nirvana to meeting God to communing telepathically with fellow believers.
Spirit Tech is available now!
Each of the book's first eight chapters introduces a different area of brain-based technology and follows the stories behind it. Personal interviews bring forward the voices of creators who engineer and design spiritual technologies, experts who innovate the science behind them, and users on the ground who are already experiencing the spiritual side effects. These chapters explore what types of tech are in use, what's under development, and how to access them—including neurofeedback-guided meditation practices, transcranial ultrasound stimulation as a techno-boost toward enlightenment, technodelic virtual reality programs that generate altered states of consciousness, a Christian church existing entirely in virtual reality, contemporary uses of psychedelic substances for spiritual growth, an android who provides spiritual guidance, and even technology for brain-to-brain communication that may enable groups to drum up a high degree of collective fervor more efficiently.
The final two chapters take on the implications for spiritual wellbeing and questions of authenticity related to the capacity of technology to trigger, enhance, and control spiritual experiences. Ethical quandaries are felt most sharply on the personal level, and the book turns to interviews and narratives to inform the questions that arise.
What does the level of control afforded by spirit tech say about the authenticity of spiritual experiences? Technological interventions have taken over every aspect of our lives—should we allow them into our spiritual spaces too? Will they help or hurt our religious communities? Does our ability to cultivate moral virtues effectively using spirit tech, perhaps in some cases more effectively than by traditional methods, oblige us to use it?
As technology continues to rapidly evolve and integrate with all aspects of our lives, many people have concerns about what kind of impact contemporary technologies may have on our spiritual wellbeing. On the other hand, others have unrealistic expectations of what the technology can do and may be more willing to throw caution to the wind. Spirit Tech addresses the big philosophical, psychological, and ethical questions around authenticity, meaning, safety, and social responsibility. It balances openness with caution, excitement with wisdom. The book serves as a starting point in the conversation about the implications these unique methods will have for the people that use them and their faith communities.
Despite the fact that spiritual technologies are becoming more abundant, there are very few religious scholars seriously investigating the potential these advancements have for how humans experience their spirituality in the 21st century and beyond. Spirit tech is here and it's swiftly growing, in reach and sophistication. Empowered by knowledge, we can help shape how communities will embrace and apply these technologies. It is a brave new world, indeed!
If you think using technology to trigger spiritual experience is too "woo woo" – or, alternatively, the perfect solution to leaving stodgy religion behind – think again. The world of spiritual technology is fast emerging and it will reshape how we pray, meditate, worship or just achieve a more peaceful life. Rather than self-help or guru-inspired, this book is a carefully researched, very accessible and eminently thoughtful approach to the brave new world of spiritual technology. The authors consider popular assumptions about such things as spontaneity, causality, brain function, authenticity, and potential transformations wrought by spiritual technology.
This fascinating book takes a fresh look at religion and spirituality, through a closer examination of "spirit tech" — e.g., technologies that enhance spiritual experiences, ranging from those trying to "hack" spirituality through traditional shamanistic substances like ayahuasca, to others using cutting edge technologies like magnetic brain stimulation to simulate ecstatic experiences. We suddenly find ourselves in this Brave New World of spirituality which warrants a closer examination of both its impacts and ethics. This well-researched and well-written tome is a necessary guidebook for readers seeking spirituality in the digital era, as well as for religious leaders contemplating ways to attract digital natives whose interest in "church" has waned, as glittering cell phones and social media enchant them instead.
While critics may question "spirit tech's efficacy, elitism, and ethics," Wildman and Stockly are careful to note that religious believers have always used tools—including mantras, mandalas, prayer beads, and palm reading—to enhance spiritual experiences. The difference now, they write, is the sheer number of "customizable and exploratory practices at the threshold between cutting-edge tech and the soul," such as psychedelic trips in lieu of Holy Communion and LED orbs meant to foster connection between congregants. Wildman and Stockly's revealing introduction to this brave new world of transcendent tech will give both pious pioneers and defenders of traditional religiosity something to consider.
Spirit Tech is especially helpful for the "spiritual but not religious" who want to navigate new spiritual techniques, choose more wisely, and avoid problematic outcomes. It is also useful for the committed religionists who don't have the time, expertise or resources it takes to become an expert meditator or mystic, but nevertheless want to find a way to improve their spiritual lives. For the daring spiritual explorer, this is an essential guide-book to take along on the journey.
Prepare for lift-off. 'Spirit Tech' is a critical look at the cutting-edge intersection of science and consciousness, where experiences once called 'mystical' are now being reproduced in the lab, with technology, and all bets are off as to what the future holds.
Spirit Tech is a marvelously readable and often mind-blowing introduction to new frontiers in spiritual exploration. We find science fiction made flesh, here among us, now. Prepare to have your brain rewired.
A thought-provoking treasure of information and reflections on multiple tools that may accelerate the processes of personal development and spiritual awakening.
Wesley and Kate are uniquely qualified to guide us, with wisdom and rigor, into the wild new world of technology and spirit. This will be a landmark work in the emerging wonderland of techno-spiritualities.
Wildman and Stockly offer a fascinating exploration of this emerging high-tech spirituality and its ethical implications.