The Center for Mind and Culture (CMAC) is a non-profit research center that innovates creative solutions for urgent social problems arising within complex networks of evolving minds in dynamic cultures. Committed to a radically interdisciplinary, non-partisan approach, centered on computational and data sciences, CMAC mobilizes an international network of experts to develop and disseminate visionary insights to public and professional stakeholders.
Traditionally, the sciences and the humanities have operated separately in academic settings. In an evolving and complex world, this division can stall important cooperative multidisciplinary research. The seeming tension between fields is not fundamental or methodological, rather a side effect of institutional habits and compartmentalized thinking.
The Center for Mind and Culture was founded upon the idea that building a bridge between scientific and humanities approaches to studies of complex human behavior could unlock innovate solutions to complex problems. By fostering collaborative research, we demonstrate that adventurously multidisciplinary research is not only possible but essential for a comprehensive understanding of our world.
Originally an engine for studying the biological and cultural behaviors of spirituality and religion, CMAC researchers have pioneered what spirituality means in a variety of cultures and how it helps forge identities and communities. Our research methodology goes beyond traditional boundaries, integrating insights from fields such as cognitive science, anthropology, psychology, philosophy, and history. This interdisciplinary approach allows us to explore the complexities of religious beliefs and practices with depth and breadth.
CMAC has pioneered the use of modeling & simulation to recreate and study religious phenomena, such as secularization, religious extremism and violence, and the neurocomputational study of religious belief. In recent years, we have broadened our horizons to capture the nuances of human behavior outside of religious practice. By expanding our focus, we gain a more comprehensive understanding of the intricate interplay between culture, cognition, and social dynamics. We have worked with subject-matter experts in fields such as mental health, economics, public health, ethics, and data science. Embracing an interdisciplinary approach has allowed us to build psychologically realistic and behaviorally plausible artificial societies. These contain individual agents making everyday decisions that can be studied, and society-wide policy interventions that can be tested on an experimental platform designed to replicate real-world complexities.
From combatting the exploitation of children in the commercial sex industry to addressing spiraling rural suicide rates and tackling the challenges of political and religious polarization, we're committed to driving positive change. CMAC brings together diverse and even fiercely opposing views to find innovative solutions. By collaborating across the spectrum of political, ideological, and religious diversity, we've discovered that we share more in common than we often realize. Together, we're breaking down barriers and fostering understanding, forging a path towards a better world.
CMAC's theory of change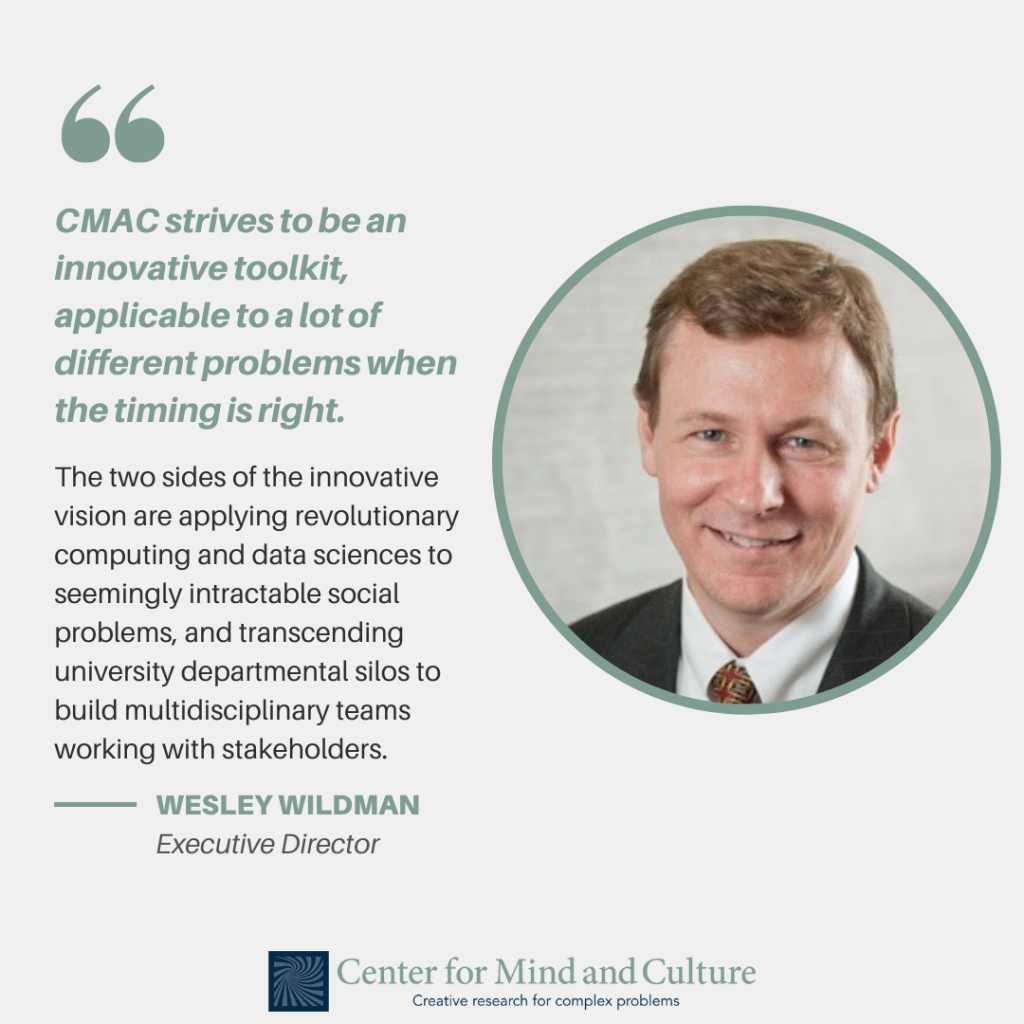 The complex adaptive system of minds in cultures produces unintended consequences, like high rates of suicide in rural areas or the exploitation of children in the commercial sex industry. Though CMAC doesn't specialize in suicide or trafficking, we tackle these kinds of social issues.
Our theory of change is that we can offer innovative solutions by bringing together experts and applying computing and data-science methods to complex social systems.
We use computing and data science to analyze real-world problems and study the impact of potential solutions. This allows us to investigate the system, run cost-benefit analyses on existing policies and potential new interventions, and discover the system's hidden change-levers. These methods are commonly used in science and engineering fields, but when we pair them with the humanities and an understanding of social issues, we have a unique opportunity to pave a new way forward.
At our core, CMAC values:
Adventurously multidisciplinary research that bridges methodological and philosophical gap between the sciences, the humanities, and the professional arts
Ethical evaluation in every step of our research, from building collaborative teams, to implementing cutting-edge analytic methods, to responsibly sharing insights
Fostering productive conversations with changemakers and subject-matter experts to inform decisions and guide opportunities for change
Upholding the highest intellectual and professional standards at all times
We believe that:
Creative solutions to complex problems are uncovered by studying the mind-culture nexus
Innovative tools have the power to drive equitable policy solutions, supporting lasting change
Facilitating respectful spaces for thoughtful and creative discussion can multiply knowledge and drive effective approaches to policymaking and prosocial intervention
Perspectives from every member of our teams and from the stakeholders we engage with deepen our understanding of the problems we confront
Strategy

Research
CMAC coordinating and collaborating across disciplines, with diverse perspectives, and around the world. This involves:
conducting research and connecting with subject matter experts in fields related to our research
sponsoring the research efforts of others
coordinating international projects to achieve large sample sizes & register cultural differences
working across multiple disciplines to produce sophisticated and sensitive interpretations

Training
CMAC provides an institutional locus for sponsoring students, training postdoctoral fellows and supporting veteran researchers. This involves:
providing established investigators with the necessary resources
offering fellowships for graduate students and post-doctoral fellows
introducing undergraduate and graduate students to the research tasks
establishing and nurturing affiliations with universities

Outreach
CMAC disseminates knowledge about the mind-culture nexus and connects a network of academic experts to the organizations that need them. This involves:
producing technical working papers and policy recommendations
communicating the significance of research efforts
launching new publications
developing curriculum materials for related course work
sponsoring colloquia, seminars, working groups and public lectures
CMAC on the Move:
Presented in July, 2020.
---