Maternal mortality rates in the U.S. are higher than several developing nations, and the numbers are four times worse for Black mothers who are pregnant, delivering, or several months post-partum. This is a public health emergency. Extensive research is urgently needed, distinct from the research given to maternal care writ large, to determine the tools needed in U.S. healthcare institutions to provide specific treatment plans and care for Black mothers.
Focus areas
Meet the team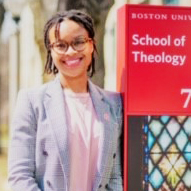 Approach
The Black Maternal Mortality Project (BMM) has several layers. The foundation is a comprehensive review of research literature on Black maternal mortality in the U.S., focusing on the New England area when studies permit. Bringing to light the quantitative and qualitative data related to Black child-bearing women, apart from maternal mortality in general, informs the other layers of BMM.
The second layer is data collection and analysis. Following the existing model of the California Maternal Quality Care Collaborative, BMM analyzes de-identified medical records of deaths of women who received treatment in a Boston-area hospital while pregnant, during childbirth, or several months after delivery. Analyzing the narratives of the specific medical practices performed throughout pregnancy and during delivery will allow us to analyze effectiveness of care, to identify medical interventions that varied across races, and to evaluate specificity in note-taking in order to determine differences in care between Black identifying women and non-Black identifying women. This involves a mixed-methods approach, moving from qualitative review to quantitative statistical analysis, ultimately identifying opportunities for better health system design and implementation for Black-identifying women that could be applied across Boston, Massachusetts and the wider New England region.
The third layer is a computational policy simulation calibrated to both the data BMM analyzes from hospital records and the statistical data from New England more broadly. This policy simulation will allow us to assess what factors make the largest difference in Black maternal care outcomes. This will indicate where policy efforts should focus interventions. The simulation will also allow us to evaluate the likely effect of such interventions.
Impact
By leveraging prior research, new data collection, systematic analysis, and computational policy simulation, BMM aims not only to draw attention to the public-health crisis reflected in Black maternal mortality rates in the U.S., but to suggest practical ways to mitigate the problem. The project will communicate findings both through academic publications and through a stakeholder network that we will build to support sustainable change in outcomes.
Latest updates
Publications
jacobs, shaunesse' a. "Details Matter When Tackling the Public-Health Crisis of Maternal Mortality," Boston University Institute for Health System Innovation & Policy, 2020.
External Resources
"Birth Equity Resources," California Maternal Quality Care Collaborative: https://www.cmqcc.org/qi-initiatives/birth-equity/resources
"Structural Competency Meets Structural Racism: Race, Politics, and the Structure of Medical Knowledge," Virtual Mentor: https://pubmed.ncbi.nlm.nih.gov/25216304/
"Racial and Ethnic Disparities in Severe Maternal Morbidity Prevalence and Trends," Ann Epidemiol: https://pubmed.ncbi.nlm.nih.gov/30928320/
"Obstetric Racism: The Racial Politics of Pregnancy, Labor, and Birthing," Med Anthropol: https://pubmed.ncbi.nlm.nih.gov/30521376/