Artificial Intelligence is beginning to revolutionize the way we interact with the world. But this technology – and the power it brings – is not available to everyone, including those who struggle with communication skills like children with Autism Spectrum Disorder. People who have trouble forming sentences or recalling the correct words have difficulty functioning independently. Extensive therapy can help them find their voice, but it is arduous for all involved, requiring hours of careful repetition and instruction. With the development of ever more sophisticated digital assistants for everyday tasks, we now must ask the question: can they be assistants for those most in need?
Approach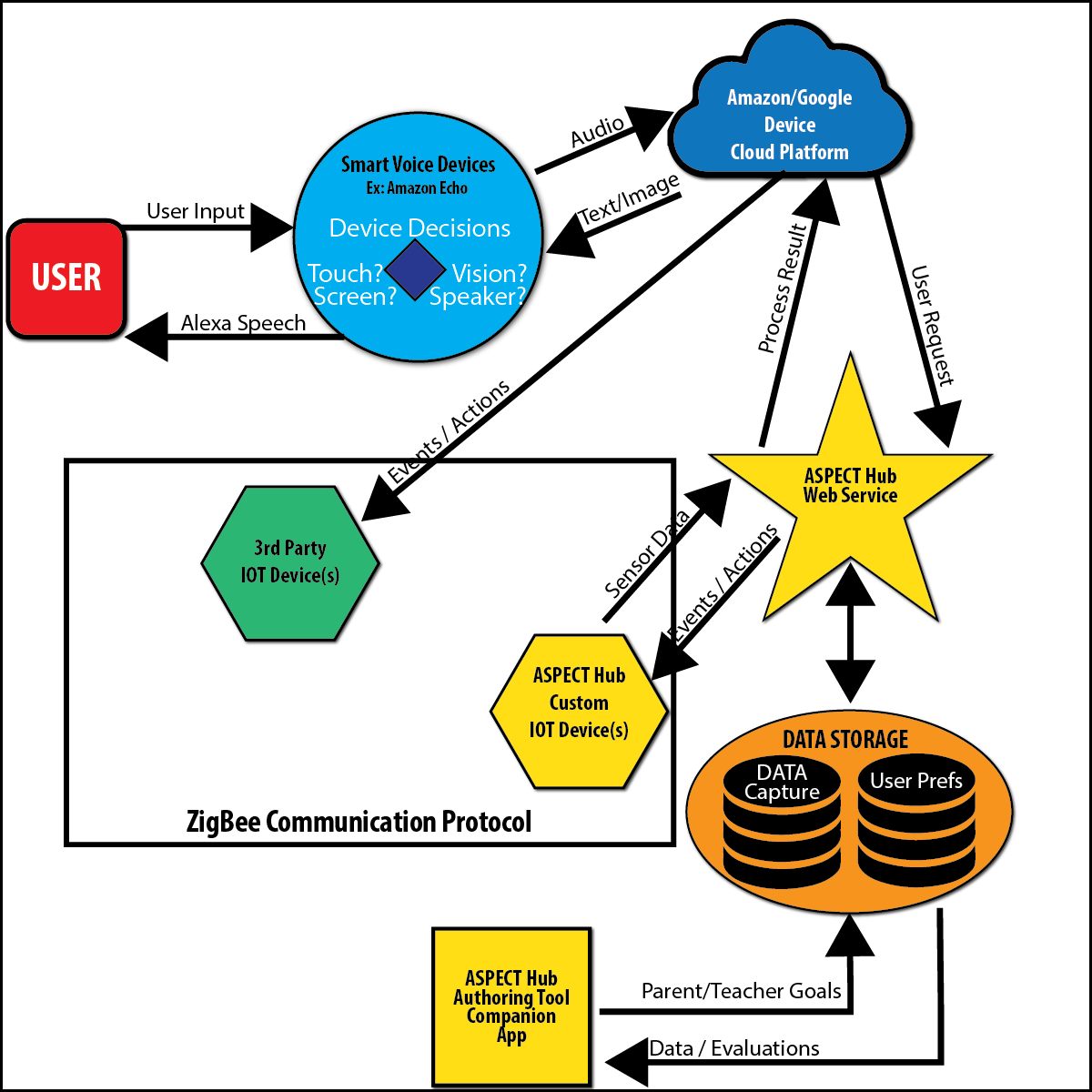 The ASPECT Team of researchers is developing technology that will universalize access to language-based devices (i.e. Amazon Echo, Google Home, etc.) and to help improve the communication skills of children with Autism Spectrum Disorder (ASD).
Team members have built and piloted a tool called the Autism Spectrum Engaged Cloud Technology (ASPECT) Hub. ASPECT implements several tools to assess the verbal and responsive behavior of children, and calibrates an Amazon Alexa interface accordingly. The groundbreaking technology allows children with varying proficiencies to work on verbal and echoic skills by providing tailored and dynamic feedback based on performance. It is a personalized educational tool that can be used in homes, therapy centers and after-school learning programs.
As the team develops ASPECT, they will pilot the technology in behavioral clinics in Virginia and in Massachusetts. The ASPECT Hub program first trains therapists in using the equipment and then deploys the equipment in regular therapeutic meetings with patients. The patient practices utterances while ASPECT records and scores. If he or she gets it correct, ASPECT provides positive reinforcement – like a favorite song.
ASPECT thereby encourages learning and alleviates the difficulties of existing therapies.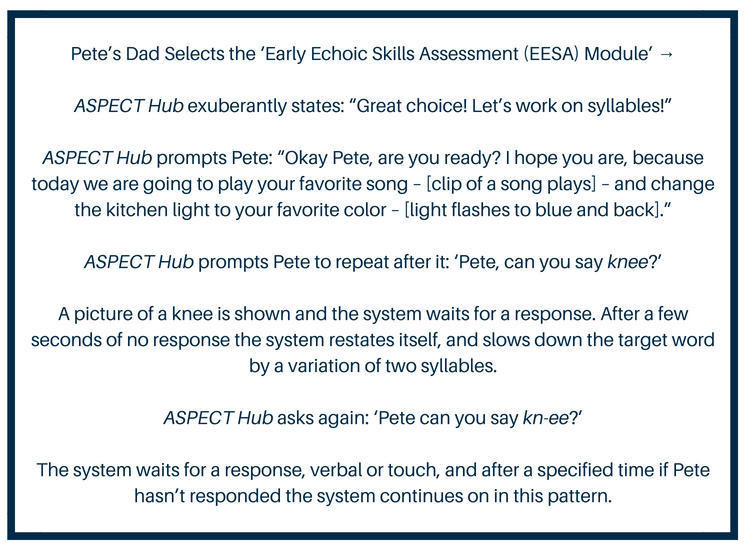 Impact
Our partners at the Virginia Modeling, Analysis and Simulation Center (VMASC) have developed a model of ASPECT Hub and begun deploying it at the Mea'Alofa Autism Support Center. CMAC is currently coordinating with Bierman Autism Center to run a similar trial in Boston, as well.
Thus far, ASPECT helps behavioral therapists by significantly reducing the burden of certain therapies on them as well as enabling them to clearly track the progress of their patients using AI technology.
Artificial Intelligence is an increasingly central part of research and daily life, and through ASPECT Hub, we can both promote access to it and use it to strengthen our capacity to communicate.