The Center for Mind and Culture invests in the scientific study of human wellbeing. Learning from existing research, we understand physical and emotional healing as a transaction occurring in the mind-culture nexus. Several of our projects are devoted to understanding the healing process, and some to trying to find solutions to pressing human health problems.
Epigenetics Project
Epigenetics Project 
The Epigenetics Project is issuing a call for a deeper and more considered dialogue on the human condition. Epigenetics refers to the suite of chemical processes that regulate genes, activating or suppressing proteins. These processes have broad and notable implications – for example, researchers have studied epigenetics in an effort to learn if trauma is encoded in DNA and how. 
CMAC's research team on this project hopes to start an important conversation, particularly amongst theologians, that critically examines the potential of epigenetics in revealing our mental, physical and spiritual health. The first phase of this project centers on writing a forthcoming paper to this point. Years active: 2017–Present.
Key Personnel
Stephen Scaringe
Cassidy Lowell
Neuropsychology and Health Project
Neuropsychology and Health Project
CMAC researchers are investigating the brain-based conditions under which people are healthier. By analyzing conceptual models and evaluating relationships among the brain's affective and cognitive dimensions, we are finding out more about the relationship between such things as spirituality and empathy. Our efforts in this project will help us discern how our minds affect our wellbeing and, therefore, how we might attain wellness from a psychological perspective. Years active: 2015–Present.
Key Personnel
Minding Shadows
Minding Shadows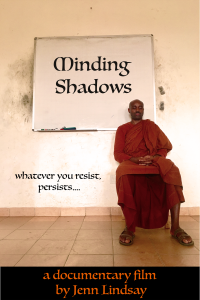 Minding Shadows is a documentary film about a 13-year-old boy who survived the 1994 Rwandan genocide and prepared to exact revenge, but instead became a Buddhist monk who today teaches trauma healing around the world. Produced and directed by CMAC documentarian Jenn Lindsay, the film follows Olivier Biraro, a young man who originally enrolled in Karate and Taekwondo classes to learn deadly force after the devastation of the genocide – only for a profound experience of peace and discipline to change him forever. As the Venerable Sangharakkita, he now teaches the "Shadow Work" method to attain peace and find forgiveness from the inside out.
Venerable Sangharakkita's story is a portrait of resilience in the face of evil, violence and vengeance. It is both timely and timeless, a demonstration of flourishing after trauma and a toolkit for handling suffering, from political to psychological levels. It casts an unblinking eye on the importance of airing out the shadows, secrets, fears and anger that so many keep submerged. Filmed in Rwanda, Uganda, Sri Lanka, Malaysia, Austria and Switzerland, it extends a story of hope and recovery in the most unlikely situations and speaks to weighty questions:
How do we forgive those who have gravely wronged us?
How can we be free of our rage, blame, regret and shame?
How can we become balanced individuals, able to embrace all parts of our complicated pasts and inner turmoil?
Minding Shadows will appeal to those interested in psychological healing and recovery from trauma, as well as those who want to learn about intercultural dialogues, Buddhism, and Rwandan relief efforts. For more information, see the film's website: http://www.mindingshadows.com.
Key Personnel
viaSTEM
viaSTEM 
CMAC is working on making computer modeling accessible for those with vision impairment, so as to bring the ever growing and increasingly lucrative STEM fields available to a wider range of people. By equipping machinery with controls that are responsive to sound and touch, the CMAC team is expanding both the capacity of simulation technology and its usability. Years active: 2017–Present.
Key Personnel
Partners
Healing Causation Project
Healing Causation Project
CMAC's Healing Causation Project aims to move beyond the hundreds of correlational studies identifying the health effects of dietary, spiritual, and social practices. Instead, the CMAC research team wants to identify the causal, biochemical mechanisms that produce physical and emotional healing. Researchers can determine cause and effect based on longitudinal studies, modeling and/or experiments. These techniques can be more difficult to coordinate and carry out, but are highly worthwhile, as they can show the relationships between variables. Years active: 2010–present. 
Key Personnel
Katherine Verdolini Abbott (past)
Nicole Li (past)
Research Partners
Boston University (current)
VMASC (current)
University of Pittsburgh (past)
National Institute of Health (past)
Neuroscience and Cognition in Parkinson's Disease Project
Neuroscience and Cognition in Parkinson's Disease Project
On this project, CMAC investigates the effect of Parkinson's Disease on cognition and emotion. The project uses advances in functional connectivity magnetic resonance imaging (fcMRI) techniques, new psychophysical cognitive priming techniques, and classical "on-off" levodopa (LD) comparative techniques to identify brain system alterations linked with patients' cognition changes.
In addition, two doctoral students and one post-doctoral fellow are being trained in the scientific background and experimental techniques relevant to this project. CMAC believes that this work with these patients will identify key sources of their challenges as well as illuminate fundamental issues in the neuroscience of beliefs, behaviors, and experiences. Years active: 2012–2017
Key Personnel
Raymon Durso
David Salat
Christopher Halloran
Jonathan Morgan
Research Partners
Sex Differences Project
Sex Differences Project (SDP)
CMAC's Sex Differences Project explores issues of gender and sex diversity – including transgender, intersex, third sex, and others – in contemporary society and throughout history, across cultures and religions. CMAC is using surveys and neuroimaging to generate two comprehensive annotated bibliographies – one relevant to the biology of sex differences and one relevant to the links between sex, gender, and religion – as well as producing and analyzing datasets covering the genetic and social controversies surrounding the social construction of gender and sexual norms. This project received funding from a 2016-2017 Regional Development Grant from the American Academy of Religion and from Boston University to help support the Sex on the Margins conference in February 2017. Years active: 2014–Present.
Stories of Intersex and Faith: a sub-project of the Sex Differences Project
A sub-project of the Sex Differences Project, Stories of Intersex and Faith, aims to change the way people understand sex differences in a society that is deeply divided on this very topic. In sharing the stories of intersex people, CMAC's goals are threefold: to end the isolation intersex persons face in America today; to stop non-medically necessary surgeries on intersex infants and children; and to start better conversations about sex, gender, and sexual diversity in faith communities and elsewhere.
Unlike any other documentary on the topic, CMAC's will seek out, acknowledge, and begin to address the way that religious beliefs (conscious and unconscious) contribute to perpetuating those problems, in addition to depicting the way that cultural fears about sex differences fuel traumatizing surgeries on young children. Stories of intersex people of faith have the power to disarm those caught in the culture wars, so CMAC's work has the potential to overcome current impasses to a productive conversation.
Key Personnel
Sleep and Dreams Project
Sleep and Dreams Project
In the far past of our species right up to the present day, dreams and nightmares have been associated with profound meaning. Some dreams seem to convey religious revelations while others express our deepest moral feelings and thoughts. Some people have also cultivated the ability to dream in lucid ways so as to explore the worlds they believe dreaming opens up to them. It's easy to underestimate the importance of dreams if you haven't personally experienced their force. In this project, the Center investigates the intricate connections between dreams and nightmares, on the one hand, and the construction of human life meanings, on the other. We employ a wide range of techniques from individual dream narratives to longitudinal dream journals, and from sleep studies to life histories. We aim to tease out the ways dreams and waking life are entangled, which will shed light on big questions such as the evolutionary origins of religion and morality, and the formation of life-guiding conviction and political commitments.
Virtual Reality for Nightmare Disorder Project
Virtual Reality for Nightmare Disorder Project
The Virtual Reality for Nightmare Disorder Project is an effort to create a virtual reality enabled treatment for the DSM-V diagnosis of Nightmare Disorder. Computer engineers at the Virginia Modeling, Analysis and Simulation Center (VMASC) have created a customized software that researchers run through the Occulus Rift VR system to guide participants in a treatment session that allows them to confront and manipulate nightmare imagery.
The goal of this treatment is to activate the prefrontal cortex – where imagery control happens – to allow a greater command of disturbing mental images and to mitigate the overactive amygdala to maintain proper fear regulatory responses. The project hopes to better identify the causes of this disorder and thereby better ameliorate its effects. Years active: 2017–Present.
Key Personnel