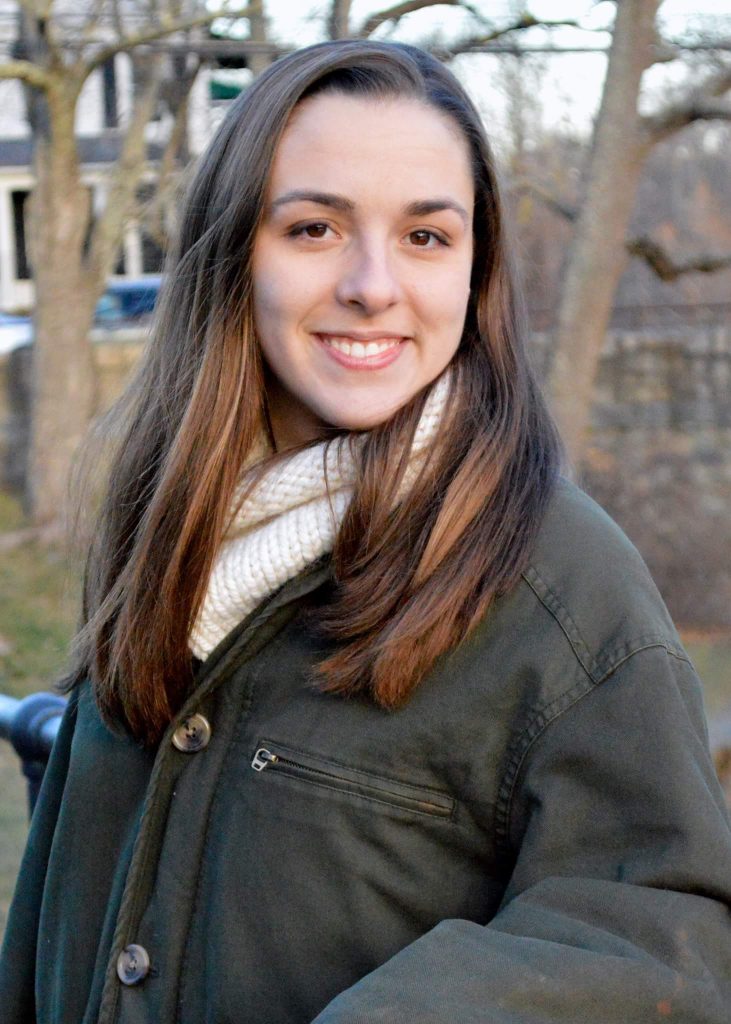 We have recently welcomed Julia Dunlavey to the CMAC family as a member of the administrative team. Julia is our new Administration & Communications Coordinator. Research Manager John Balch sat down with her for a Q&A.
JOHN: So tell us how you've come to work at CMAC. What were you doing before you got here?
JULIA: So Maggie is one of my friends, so I kept hearing about it throughout this past year. I was working for an independent science documentary TV filmmaker. She's done a lot of Nova stuff, and a lot of stuff for the Smithsonian museums, like the natural history museums, discovery channel and all of that. So I went to Colorado and basically was a production assistant on their shoot on sustainable forestry techniques. So when Maggie decided she was leaving, she thought of me because I studied Neuroscience and Film Studies in college. I've been looking for a job with more structure, because the freelance film lifestyle isn't quite for me, at least not yet (laughs). I'm interested in working alongside a lot of smart people. That was one of the things I really like about working on science documentaries, you get to talk to all these really smart people and learn a lot.
JOHN: What are some of your personal interests, research wise?
JULIA: I'm really interested in mental health. For example, identifying specific pathways for drug interactions because it's just so complicated and I feel that we can constantly get to know more specific interactions and pathways.
JOHN: Do  you mean in regards to anti-depressants?
JULIA: Yeah, anti-anxiety.
JOHN: So tell us some of your goals for CMAC; what are you most excited to be working on?
JULIA: I'm actually pretty excited to be working with the work-study students. I've been a camp counselor for a while. Obviously that's more like teaching children, but in terms of teaching and guiding, I think that working with students could be really great and an interesting challenge. In terms of the research, I don't have a lot of background in science and religion; I majored in biology. I'm really interested in talking to smart people in this new field and try to make it accessible to others.
JOHN: So tell us what you think about the role and value of interdisciplinary research?
JULIA: It's definitely challenging in terms of communication between experts in different fields. Because everybody has their own language that they work with and I think now in this day and age people who know how to communicate between disciplines are the people who are actually going to succeed and advance in many different fields.
JOHN: Yeah, I think that CMAC tries to be a space where those people can actually sit in rooms and talk together, which isn't always possible in other settings.
JULIA: Yeah, it was very frustrating to me when I was working on my thesis, as I was majoring in Neuroscience and minoring in Film Studies, and I really wanted to study the emotional and cognitive effects on your brain when you're watching a movie, including the social aspect of going to a movie theatre, and how that in itself is such an important thing for mental health, including community, fantasy, escapism, laughter…But it was frustrating talking to the film studies professors and the biology professors and trying to make them understand that this could be a thing that I could do, and getting them to trust me.
JOHN: So, I have to ask, what are some of your favorite movies? I know that's a hard question….
JULIA: I really like Do the Right Thing, and Ten Things I Hate About You. And I really liked The Witch. I am not much of a horror fan; I'm not a scary movie person. But that film was excellent.
JOHN: Do you have a favorite director?
JULIA: I took a class on Spike Lee, and I really enjoyed it.
JOHN: He's very unique.
JULIA: So great.
JOHN: So tell us a fun fact about you!
JULIA: Well, I was a competitive lumberjack in college. I went to college in Maine, it's called the Woodsmen Team, and it's basically modeled after the old lumberjacking techniques of the Northeast and Canada. So that was fun, but I'm retired (laughs). My parents live in Natick and they have two cats, and I watch a lot of movies…
JOHN: What's the most recent movie you've watched that you liked?
JULIA: I just watched Rumor Has It. It's with Jennifer Aniston, it was kind of a bad movie, but it was on Netflix and I thought it looked fun.
JOHN: Was it fun?
JULIA: It was pretty fun! It was about how the family of the character played by Jennifer Aniston was the inspiration for The Graduate and this whole controversy around that.
JOHN: Any crazy stories from working on the science documentaries?
JULIA: I found myself driving through Manhattan looking for a scuba dive shop. Which was not an experience I would ever like to repeat. Our cameraman was an underwater cameraman, and we were filming oysters off of the coast. So we needed a tank and some other things, and I don't know anything about scuba diving but he gave me a list, and then the producer said "go find us a scuba shop." But there was a scuba conference that same weekend in Las Vegas, so all the scuba shops were closed except for this one right in Manhattan, in the Lower East Side. So I ended up driving trying not to get honked at and run into any pedestrians, but eventually got the stuff and it was fine!
JOHN: So are you interested in bringing some of this knowledge and background in film into your work at CMAC?
JULIA: Yeah. I'm excited to help with producing more videos about our research, and that's definitely something I'm looking forward to: interviewing researchers and making their work more accessible.